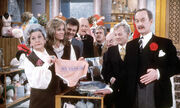 This quintessentially British sitcom is about Grace Brothers, a department store in London which is owned and kept traditional, almost pre-war (e.g. precise dress code for ladies frills and gentlemen's hats according to rank), by two brothers who look old enough to have fought in the Boer war but rarely appear, as most scenes play on one floor where Mr. Cuthbert Rumbold is the executive (meaning he enjoys an endless parade of foxy but stupid secretaries) in charge of management while his dignified floor walker, Captain Stephen Peacock, has daily charge over two small sales teams. The fat and bossy, implicitly man-hungry widow Mrs. Betty Slocombe supervises the attractive Miss Shirley Brahms (with a terribly common Cockney accent) -with first choice of customers, on commission- the sale of women's clothes and accessories; the sales star at the gentleman's side is Mr. Wilberforce Clayborne Humpries, an implied closet-gay true gentleman, whose successive superiors are first obviously nearly retired Mr. Ernest Grainger and later formerly independent Mr. Grosman while the successive cheeky juniors are Mr. Dick Lucas and Mr. Bert Spooner. A regular visitor, and the only manual laborer but apparently best paid, is union representative Mr. Mash. Their interaction with each-other and the customers is quite formal in principle, but turns out comical in practice. Written by KGF Vissers[2]
Errors and Explanations - Internet Movie Database
Edit
Incorrectly regarded as goofs
Edit
Throughout the series, the entire staff of the floor takes breaks together. That would mean that the entire floor would be closed due to lack of employees during break times. Indeed, one episode specifically deals with this problem. Mr. Grace feels that they are losing too much business during this hour, and pushes the lunch break back to later in the afternoon, leading the staff to hit the roof. Many stores have quite periods in mid morning and mid afternoon, which would allow staff to have coffee breaks., Besides which, these breaks were not always taken at the same time, as shown in the episode Coffee Break, When Mr Lucas and Mr Humphries are at the counter, but Mr Grainger is on his break. [2]
Movie Mistakes
Edit
Corrections
Edit
Throughout the series Mrs. Slocombe's first name changes numerous times. It is Betty in some, Margaret in another, Mary Elizabeth in one and finally Rachel in a few. As far as is known, her name actually only changed once (Margaret), but officially her name is as follows: Mary Elizabeth Jennifer Rachel Yiddel Abergavenny Slocombe, thereby the Betty (nickname for Elizabeth), Rachel, and Mary Elizabeth. Her full name is sung in an episode where they celebrate what is thought to be her 50th birthday, but according to her, she is only 46. [3]
How is it that EVERYBODY on the floor gets to have lunch at the same time? Many stores close for lunch time (a half hour, or full hour). This is particularly true for stores that have a "canteen". They don't want to cook all day, so they serve all meals at once.
References
Edit
↑ Richard Webber, "I'm Free! - The Complete Are You Being Served?", Orion Books, 1999. ISBN 0 75281 866 X