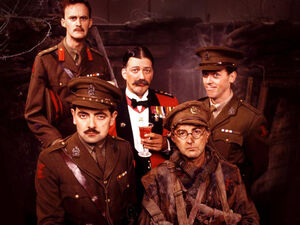 The series placed the recurring characters of Blackadder, Baldrick and George in a trench in Flanders during World War I, and followed their various doomed attempts to escape from the trenches to avoid certain death under the misguided command of General Melchett. The series is particularly noted for its criticism of the British Army leadership during the campaign, and also references a number of famous figures of the age. In addition, the series is remembered for the poignant ending of the final episode.
Ad blocker interference detected!
Wikia is a free-to-use site that makes money from advertising. We have a modified experience for viewers using ad blockers

Wikia is not accessible if you've made further modifications. Remove the custom ad blocker rule(s) and the page will load as expected.